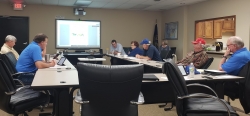 Tuesday, February 9, 2021 1:30 - 3:30 pm
Notice is hereby given that the Tri-Basin Natural Resources District Board of Directors will hold a Special Board Meeting and Regular Board of Directors Meeting at 9:00 a.m. and 1:30 p.m., respectively, on Tuesday, February 9, 2021, at Tri-Basin Natural Resources District, 1723 Burlington St., Holdrege, NE 68949. The agenda is available for public inspection during normal business hours at the Tri-Basin NRD Office, 1723 N. Burlington Street, Holdrege, Nebraska, and (877) 995-6688. The public is encouraged to attend the board meeting but can attend by using the following Zoom meeting link:
Meeting ID: 874 2644 9069
Passcode: AF448DC748
Individuals with disabilities may request auxiliary aids and services necessary for participation by contacting the district office at the phone number and address listed above, at least two days in advance of the meeting.