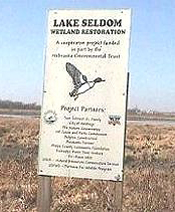 Lake Seldom is located on the south edge of Holdrege, adjacent to Highway 183. The overall goal for Lake Seldom is to enhance wildlife habitat for migratory birds and other wildlife and develop compatible recreational and educational opportunities for the people of Holdrege and Phelps County.
Lake Seldom wetland was hydrologically restored in 1998 utilizing federal and state funds, including a $38,000 contribution from the Nebraska Environmental Trust. After the wetland was restored, the Nature conservancy purchased the property from Sam Schrock, Jr. and family. The Nature Conservancy then deeded the property to the City of Holdrege for one dollar, with restrictions on development to insure that Lake Seldom will continue to provide viable habitat for a wide range of wetland and upland wildlife.
A Citizen's Advisory Committee was formed in May 1999, to provide input to the city on a development plan for the site. The committee has proposed hike-bike trails, tent camping, and "outdoor classroom" and a multipurpose recreational field as features of a future recreation area.
The wetland restoration involves a wide array of public agencies and private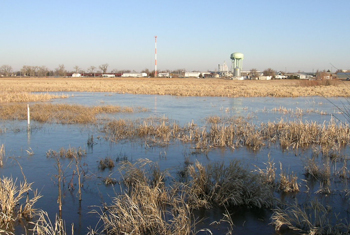 organizations. Partners include: Sam Schrock, Jr. and family, City of Holdrege, The Nature Conservancy, Nebraska Game and Parks Commission, Ostgren Construction Company, Pheasants Forever, Rainwater Basin Joint Venture, Tri-Basin NRD, US Fish and Wildlife Service-Partners for Wildlife Program, and the USDA-Natural Resources Conservation Service.
Tri-Basin NRD helped with the building and design of Lake Salom A 2.5 acre fishing lake, the project includes a wetlands area, indoor and outdoor classrooms, nature trail and a picnic pavilion. The lake is part of the Nature's Mosaic project designed for public use, and is located on 80 acres just northwest of the Mosaic at Bethphage Village campus. It is privately owned by Mosaic, but is open to the public without charge. The 3,200 feet of nature trail has been established around the lake and the outdoor education center, the "Heart of the Hill" outdoor classroom. Another trail system with mile markers, educational signs and benches, skirts the wetland area.  The trails connecting the project's various educational opportunities are 10-feet wide concrete paths with gradual changes in elevation to ensure wheelchair accessibility and safety.