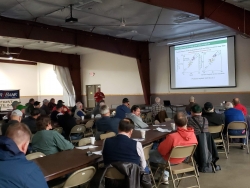 Tuesday, February 2, 2021 9:30 am - 3 pm
South Central Water Conference will bring experts and area agricultural producers together to discuss important water issues. This year it is both in-person or virtual. Prior to the event we will post the Zoom link below. Contact the Tri-Basin NRD with any questions. (308-995-6688)
Area merchants and agricultural suppliers will be on hand to discuss their products and services with attendees.
Sponsors for the event are Tri-Basin Natural Resources District, Lower Republican Natural Resources District, Central Nebraska Public Power and Irrigation District, Nebraska Extension, and the Holdrege Area Chamber of Commerce.
*Please check the website for any changes or information regarding the event. As with all of our events, public safety is a priority and we will be following the directed health measures.